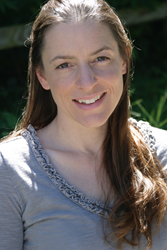 We can only thrive when we're authentically connected to ourselves, and one another.
November 07, 2014
"We can only thrive when we're authentically connected to ourselves, and one another."
These words, full of intention and wisdom, express the world-view of a fourth-generation family business owner from New Hampshire. These are the words of Amanda Grappone Osmer, who is leading the charge to reinvent the way that business is done.
According to Grappone Automotive's mission statement, shared values of integrity, kindness and respect are put into action with every aspect of hiring, coaching and training team members with the intent to make it a 'learning organization.' In her own words, Osmer has dedicated herself to trying to create a safe, stable environment in which her team can identify and work toward their own potential. Her philosophy, from a business perspective, is that "it makes all the sense in the world to eliminate waste and honor the person doing the work in the name of delivering value to the end user."
Osmer brings a certain level of authenticity to her role within their organization, from promoting team-building activities, such as 'Boat to Work Day,' to admittedly enjoying what she calls "one-minute vacations" and encouraging others to join in doing the same. Although helping to run the Grappone family business is a top priority, it's evident that taking care of people is number one. Consider this firsthand account from one of their team members who shared this observation, an unsolicited moment of self-awareness after just two weeks of working with the organization: "My wife told me that I'm a different person at the end of the day coming home from Grappone than from my last job." Statements like this can't help but make Osmer appreciative of her team members, reinforcing her belief that being kind is an important pillar of better business leadership.
Prior to taking on her role in the family business, Osmer earned her Bachelor of Science in Humanities from The University of New Hampshire. In addition to being a leader in the business arena, Osmer enjoys hanging with her family, playing the banjo, trail running, meditating and yoga. Notably, she and her husband do not own a clothes dryer, but they do raise homing pigeons. They have three hilarious kids and two bird dogs.